About the Course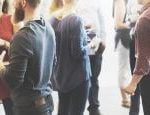 A 7-week course where we explore the question of life. Where can I find happiness? Am I looking for happiness in the right places? What does God in the Bible have to say about where to find happiness? These questions and more will be discussed and answered as we explore common approaches to life and how they compare to the approach in the Christian Bible. Feel free to ask questions. Seekers, skeptics welcome. Contact us for more information / if you have questions.
7 Sessions:
Session 1 – The Trustworthy God – What's your current view of God and how did you reach that viewpoint?
Session 2 – The Generous God – What keeps you going in difficult situations?
Session 3 – The Liberating God – Often we feel our lives would be happier "if only" we had someone or something. What's your "if only"?
Session 4 – The Fulfilling God – What are you hoping will bring you fulfillment in life?
Session 5 – The Life-giving God – What, if you lost it, would make you fee that life wasn't worth living?
Session 6 – The Joyful God – What's the best gift God could give you?
Session 7 – The Good God – What's the best gift God could give you?
Register / Express an Interest
| | |
| --- | --- |
| Where: | Lichfield, Staffs WS13 6LR |
| When: | next course time tba (please indicate your interest by filling out the form below or contacting us) |
| Who: | this course is for anyone interested in exploring life in a relaxed, warm environment where you are free to ask questions or to just listen |
| What: | What will happen? The course consists of a short video session and then group discussion based on the video contents and Scripture connected to the video. Please contact us for more information / if you have questions. |
| Cost: | Free |